Selected client list in technology, media, publishing, distribution, and capital funds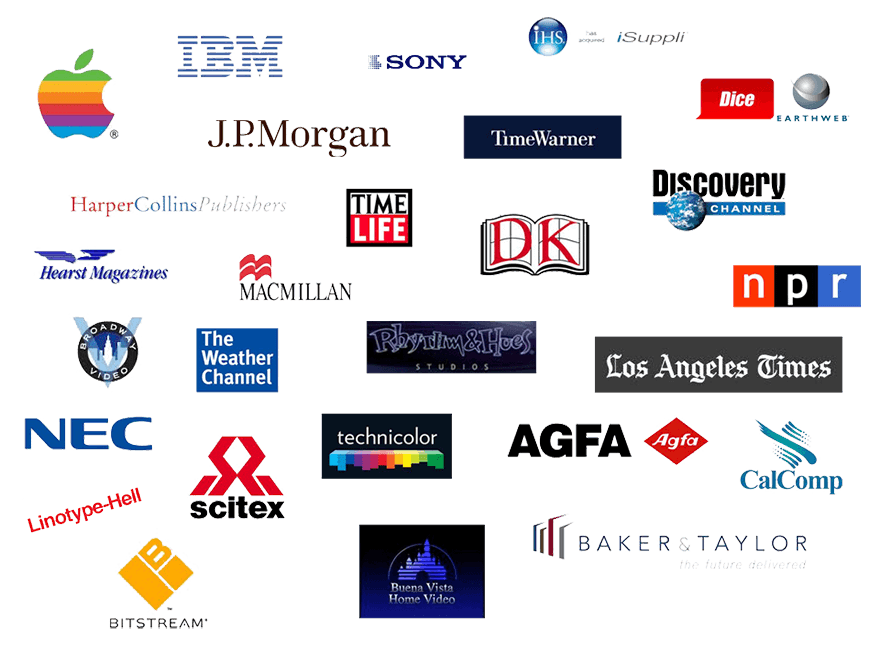 Recent Success Stories for my Consultant Clients
CEO TO CONSULTANT: INCREASED REVENUES 300% IN 2 YEARS, 15% IN PASSIVE INCOME.
Transition: from product company CEO to Consultant.
Designed creative compensation models for consulting deals and for strategic partnerships.
Tripled revenues to $600K by Year 2, on track to $1M in Year 3, with 15% of that revenue now in passive income.
TECHNOLOGIST: REPOSITIONED TO NEW SERVICES, DOUBLED RUN RATE IN YEAR 1.
Transition: from tactical project work to strategic consulting.
Re-positioned services to close more high-level strategic work with the C suite during Year 1.
Value pricing models have doubled the revenue run rate; now on track to $250K in Year 2.
Designed and signed our first deals to create a passive revenue stream in Year 1.
EXPERT CONSULTANT: REPOSITIONED TO CONSULT TO C SUITE, ON TRACK TO $250K IN YEAR ONE.
Transition: re-entered workforce after year-long absence.
Repositioned from middle-management project work to retainer-based strategic consulting to the C suite.
Doubled fees, controlled all scope creep.
Signed three Fortune 100 clients in Year 1.
Booked a $50K month in Year 1.
Revenue in Year 1 was highest ever at $240K.
On track to more than $300K in Year 3, working 9:00 – 5:30 M-F.
SPECIALIST CONSULTANT: INCREASED CORPORATE CLIENT BASE; DOUBLED AVERAGE INCOME IN YEAR 1.
Transition: suddenly the sole income generator for the family.
Re-positioned the services to the corporate C suite.
Doubled the rates with all clients.
Doubled the average income in Year 1.
Selected Success Stories for my Technology CEO & CTO clients
Founding partners exit IPO year 4 with more than $30M each, cash.
Early Internet B2B startup, IPO year 4: the three founding partners exited with more than $30M each.
My client once said, "I will not work this hard for a lousy nickel million." I asked what he wanted at exit; he said, "$20M." "Before or after taxes?" He replied, "After taxes."
May all our dreams come true.
Sale to strategic buyer, year 4: $50M for husband/wife team.
Software startup, disruptive technology: husband and wife founders (CTO, CEO), no capital infusion, no equity out: sold to a strategic buyer in year 4 for $50M.
Through precise strategies in pricing, strict control of our A-listed distribution channels, resistance to mass-market distribution until the year of sale, and careful handling of the divorce of the founders in year 3, the company was put on the market and sold within months.
And, we sold with only a brief handcuff on the CEO, as requested.
Seed investors get 50x ROI in 12 months; Series A gets 10x ROI in less than 6 months.
Early Internet new media company: Seed investors saw a 50 times ROI in 12 months; Series A investors saw a 10 times ROI in less than 6 months.
During a technology downturn, I determined this company's unique value proposition and wrote the investor presentation,
Before the founders could complete the Series A round, they sold the company to a strategic buyer.
And this was during a year of downrounds for capital and virtually no acquisitions.
Makes you believe in start ups.
$2.2M (U.S.) seed capital from strategic dealflow, no equity out, Year 1.
Joint venture software republisher & distributor in Shanghai, China: I created $2.2M (U.S.) in strategic (seed) capital from pure dealflow with no equity out.
I offered a variation on the standard international republishing and distribution deal to the world's leading software publishers (my earlier clients). The deal capitalized the company, the publishers got their investment back in 12 months, kept control of their local-language copyright, and gained early, government-authorized access to the Chinese market in 1997. A win/win. Click here for more details…
$3M in re-start capital closed immediately on a single pitch document
Software company, recovering from 2008 crash: my pitch piece gained a commitment of $1M upon reading, and an additional $2M ongoing.
The new investors were outside the technology industry. I needed to write the entire pitch piece in 3 pages, in language no more complicated or technical than the words "software" or "database." This included the unique value proposition, the target markets, why the customers would buy the product, the revenue model, how the company would scale, and so on.
Upon the first reading, the investors committed the first $1 million of $3 million they ultimately invested.
Testimonials – Consultant
I have the fortune and luxury of having Joey as a consultant for my business. Joey has the wisdom to support decision making on business strategy that is grounded by her rich life experience, as well as her uncanny ability to grasp her client's needs and wishes to help navigate the ship.  With Joey's support my business flourished and my personal goals were met in the process. A truly remarkable person.
Oded Noy, Chief Technologist
Working with Joey has been like drinking from the proverbial fire hose. I have learned more than I possibly could on my own, and her customized expertise and feedback has been instrumental in (re)building my business from the ground up. I am now firmly on bedrock where once I was on sand (and didn't even know it).
John Shiple, FreelanceCTO
Working with Joey Tamer is like strapping yourself to an SLS Rocket Booster.  Her vision is so strong, her expertise so deep, and her boundaries so clear, that I completed projects in two weeks that had been stalled for 6 months.  What I find most extraordinary is the power of Joey's influence.  By sheer force of expertise and character, Joey elevated me to a level of performance I didn't know existed.  I found myself pushing to live up to her standards.  What's more, I enjoyed it.  I would recommend Joey to any consultant who wants to make a galactic leap in revenue, performance, and personal leadership. 
Ann Convery, Business Consultant
When I met Joey Tamer I thought she was amazing but I wondered, "I'm a successful businesswoman, do I need an advisor?"  But, while my business was good, I was dissatisfied with the level of success. I just wasn't earning enough based on my efforts and experience. I felt I could improve.  So, I decided to work with Joey.
As a result, I more than doubled my income in the first year, raised my rates, landed several big contracts, and have a hugely improved quality of life.
What I love about Joey is her ability to get to the essence of any given matter. In no time at all I was revamping my contracts, upgrading the content on my website, and clarifying my value proposition.
Joey takes no prisoners and she also gives you everything she has. I recommend Joey to anyone who knows they can improve their bottom line. She is the best ROI I have ever experienced.
Kathleen Bartle, Corporate Conflict Consultant
Joey helped me to reposition and build my business with efficiency, grace and integrity. Her expertise and support allowed me to achieve both my business and personal goals while staying authentic to my voice and values. I respect Joey tremendously. She has a gift for bringing out the best work in others.
Amy Hirsh Robinson, CEO, The Interchange Group
Joey Tamer has provided invaluable support as I launched my consulting business after decades of executive management experience. Her secret sauce, besides being insanely smart, is a unique blend of the hard-headed and the visionary — all of it rooted in deep experience with clients large and small.
Nick DeMartino, Nick DeMartino Consulting
"Thanks again for a fantastic call last night. I'm still buzzing from it. You are the REAL DEAL, and just what the Universe has ordered for me."
Lise Hamilton, Attorney, Dealmaker in Offshore Contracting
Testimonials – Technology CEOs and CTOs
She has a certain calmness that you wouldn't normally expect from someone packing so much raw brainpower. Exactly the sort of thing you need when you're steering the ship of startup.
Formation Solutions, Matt Burgess, CEO
"Joey Tamer was invaluable in helping us develop a strategy and put it into action. She's both a brilliant strategist and a practical, down-to-earth, get-it-done person. Joey is smart, flexible, quick to understand, a terrific business person, and wonderful to work with."
HarperCollins Publishers: Janet Wikler, Former Group Vice President and Director of Advanced Media
"Working with Joey over many years, I find her brilliant mind drives clarity to complex situations. She quickly defines priorities both from a market standpoint as well as corporate standpoint. She identifies and navigates the politics of the boardroom. She defines and redefines, positions and repositions markets and strategy with razor sharp accurateness and lightening speed. Well worth more than her weight in gold, (or capital)!"
KPMG: Pamela Sansbury, Former Vice President, BearingPoint Global Partnership, Strategic Partnerships
"Joey Tamer played a key role in developing iSuppli's capital strategy when it really mattered most, at the start. Joey then helped iSuppli implement the strategy and was brilliant in her due diligence."
iSuppli: Derek Lidow, CEO, Founder (acquired by IHS 2010)
"Joey helped us structure our Internet ESD business plan via her extensive background in software distribution. She provided us with a framework for making distribution deals that protected us from potential liabilities and reduced our customer support costs."
EarthWeb: Nova Spivack, Executive VP, Strategy & Development, Founder (IPO 1998)
"Joey helped us early on as we prepared our capitalization strategy and worked out some kinks in our business model. She made some amazingly accurate predictions on the market and on the state of high tech venture capital. Spooky-accurate! She has a terrific mind for understanding and seeing trends in high tech. High value add."
SuperSig: Matthew Burgess, Founder
"Joey Tamer has the uncanny ability to cut through hype, right to the heart of the matter, shedding new light on stale business practices and communicating useful solutions based on her experience in related industries and disciplines. Joey always leaves us charged to implement the solutions that we identify together through her unique style of 'CEO coaching' and we consider her among our most important strategic advisors."
InterActive Agency: Tony Winders, President and Co-Founder
"I hired Joey Tamer as a consultant to help us with some difficult restructuring of our company and she was amazing. She is a brilliant negotiator and an expert in dealing with people at all levels of the organization. Joey learned our niche offering in the IT consulting business quicker than most consultants I've seen, and was able to add value to the organization immediately. She is smart, dedicated and not afraid to deal with tough issues."
Aspen Software Consultants: Mary Turner, President & CEO